Spirits of Rahway: A Lantern Lit Tour of Rahway Cemetery
Join us if you dare… on Saturdays, October 18th & 25th for a nighttime tour of Rahway Cemetery. Your woeful tour guide will share true and unsettling stories from the darker side of Rahway's past. Murder, apparitions, tragic deaths, and the unexplained…all while wandering through the Historic Rahway Cemetery by lantern light.
Tours are 7:30PM, 8PM, 8:30& 9PM. $10 per victim-uh, we mean- guest. Reservations Required. Call the museum (732)381-0441 to reserve your spot. Tickets sell out fast.
Union County's Annual Four Centuries in a Weekend
October 18th & 19th, 2014
Take the weekend and tour over 25 historic sites throughout Union County.
We will be open Saturday, October 18th from 10-5 and Sunday, October 19th from 1-4PM. Stop on by for Autumn-Themed activities, pumpkin painting, tours, and more!
Visit the Union County Website for information and a map of participating locations.
Ghosts, Goblets, and Dancing Under the Harvest Moon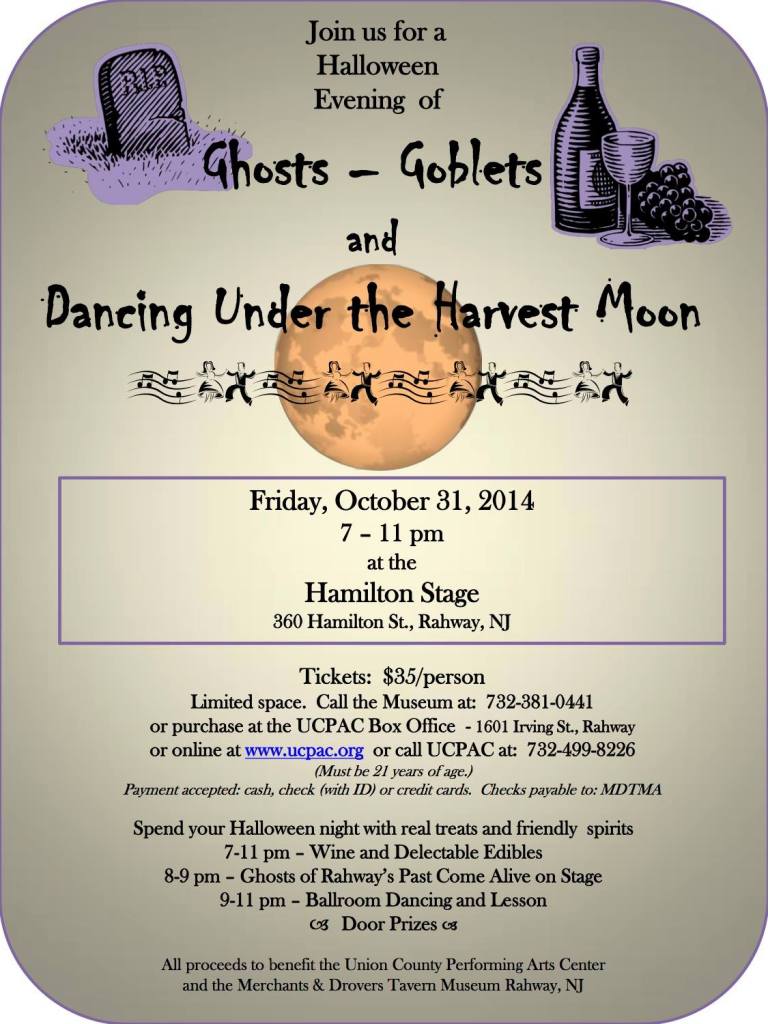 Halloween Night, October 31st, 7PM-11PM at the Hamilton Stage
360 Hamilton St., Rahway, NJ
Tickets: $35/person
Limited space. Call the Museum at: 732-381-0441
or purchase at the UCPAC Box Office – 1601 Irving St., Rahway 732-499-8226
 Purchase Online at www.ucpac.org or through Ticketmaster
Payment accepted: cash, check (with ID) or credit cards. Checks payable to: MDTMA
Spend your Halloween night with real treats and friendly spirits
8-9 pm – Ghosts of Rahway's Past Come Alive on Stage
7-11 pm – Wine and Delectable Edibles
9-11 pm – Ballroom Dancing and Lesson
Door Prizes
All proceeds to benefit the Union County Performing Arts Center
and the Merchants & Drovers Tavern Museum Rahway, NJ
Children's Ghost Story Night
November 15, 2014
Step back in time to 1820 and listen to spooky stories from travelers of the Old King's Highway. Costumed "guests" of the tavern will recreate this time of stagecoach travel and early American history. Refreshments provided.
Event starts at 6, 7, and 8 PM
$5 Children, $7 Adults
Spaces are limited, call to reserve your spot (732)381-0441
Annual Holiday Candlelight Evenings
Saturdays, December 6 and 13, 2014
Join us as we recreate the romance of a 19th Century Christmas at the The Merchants and Drovers Tavern Museum, featuring the music of Linda Russell- Historical Balladeer. Light Fare and Libations included.
Reservations Not Necessary. Adults $12, Members/Seniors $10, Students $5, Children Under 5 Free.
Annual Member Dinner
January 2015: Date to be Announced
Museum Association Members and Friends of Members are invited to join us for our Annual Pot Luck Dinner Party. We'll be highlighting out achievements of 2014 and discussing our future events and renovation endeavors for 2015.
For information and to reserve a seat call (732)381-0441
An Evening with Bruce Tango from SyFy's Ghost Hunters
February 2015: Dates to be Announced