The Merchants and Drovers Tavern Museum Association is dedicated to preserving the Merchants and Drovers Tavern (circa 1795/1820) and to interpreting early American travel and tavern life.
Our building has stood at the corner of Westfield Avenue and Saint Georges Avenue since the 1700s. The original portion of the building was constructed as a two-story home and general store. In 1798, Jon Anderson, a local businessman purchased the property and applied for a license to operate a tavern. His business venture was successful and in a few years he extended the building eleven feet and created extra rooms on the second floor.
During this time in American history, Saint Georges Avenue was one of the main roads between New York and Philadelphia and a direct route between Newark and Princeton. By 1820 the Inn and Tavern business was flourishing and the building was modified to include a third and fourth floor.
Today, the four-story federal style building has been restored and decorated to its 1820's appearance. Guests can step inside an early American bar and taproom, view the accommodations available to early nineteenth century travelers, and tour our exhibit room.
The Merchants and Drovers Tavern Museum is listed on the National Register of Historic Places as well as the New Jersey Register of Historic Places. Our building has been recorded in the Historic American Buildings Survey for the Library of Congress for its importance as an example of Federal-style architecture.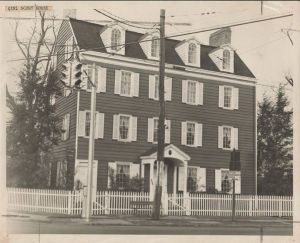 We are located at 1623 St. Georges Avenue in Rahway, New Jersey, on the corner of St. Georges Avenue (Route 27) and Westfield Avenue.
We hope you will visit us soon.