As has been the case since its inception, the Annual Member Dinner this year, held on Saturday, January 25, was completely sold out. Even though the dinner was postponed from the week before due to bad weather, all reservations were filled.
Those in attendance were treated to a potluck meal which featured everything from appetizers to main dishes to desserts
During the evening, President Rick Zdan thanked all those members who worked on this year's programs and gave a preview of the programs to be featured this year. Director of Museum Operations Alex Shipley presented a brief history of our museum and thanked the members for their help in making our Association one of the most active in the state.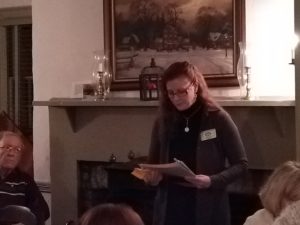 The association would like to thank the committee who organized and prepared the event. Committee members included Cathy and Joe Keefe, Annette and Dave Satkowski, and Betty Makarucha.
To become a member of the Merchants and Drovers Tavern Museum, click here or call us at 732-381-0441 for more info!