---
WEATHER UPDATE: Due to the impending weather, we are postponing the SATURDAY Lantern Lit Cemetery Tour for Oct 27 to SUNDAY, Oct 28. We are also moving all of the SUNDAY tours to one hour earlier. The first tour of Sunday evening will begin at 6:30pm, with the last tour beginning at 8:30pm. If you have a confirmed reservation, we will be contacting you to follow-up and re-confirm for Sunday's tours.
The FRIDAY night tours are going on as scheduled (but you may want to bring an umbrella)! If you have any questions, please contact the museum at 732-381-0441.
---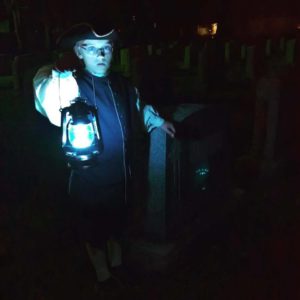 Murder, apparitions, tragic deaths and the unexplained…Join us on the weekend before Halloween for a night-time tour of the historic Rahway Cemetery and listen as lantern-carrying guides tell haunting tales as they walk between the silent stones.
(Change) Five tours are given each night, Friday at 7:30, 8:00, 8:30, 9:00 and 9:30, and now, due to weather, Sunday at 6:30, 7:00, 7:30, 8:00, and 8:30pm.  Tours last approximately one hour and end with refreshments in the Museum kitchen.  Guests are also welcome to tour the Museum.  Tickets are $15.00. (Tours are designed for teen and adult audiences.)
This program, now in its 8th year, has become one of the Association's most popular offerings.  The tours sell out, so make your reservations early by calling the Museum office at 732-381-0441.